Now serving Danvers, Lynnfield, Peabody, Reading/N. Reading, Marblehead, Middleton, Nahant, Salem, Saugus & Swampscott.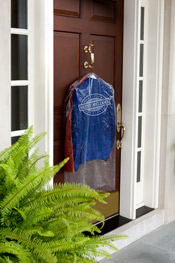 You will receive two personalized laundry bags and forms to mark for special instructions. Twice weekly basis, your friendly driver will pick up and/or deliver your garments to a location of your choosing. After each delivery, we will automatically bill your credit card for hassle-free payment.
You pick the location for your items to be picked up and delivered. Whether it's in your breezeway, front door, or garage, we will leave your items in your designated location. Remember, it's best if you choose a weather sheltered location.
Each laundry bag comes with a garment care instruction form. Once you give us your general instructions, we enter it into our database so we always know how to process your items. Any special instructions can be added with a simple note in your bag. If we have any questions, we will call you as soon as we check in your garments.
No wait to pay—No delivery fees! We'll automatically charge your order to your credit card.
No matter how small your order, we do not have a minimum piece requirement.
We happily service most of the North Shore. Contact us if we are not in your area and we can help!